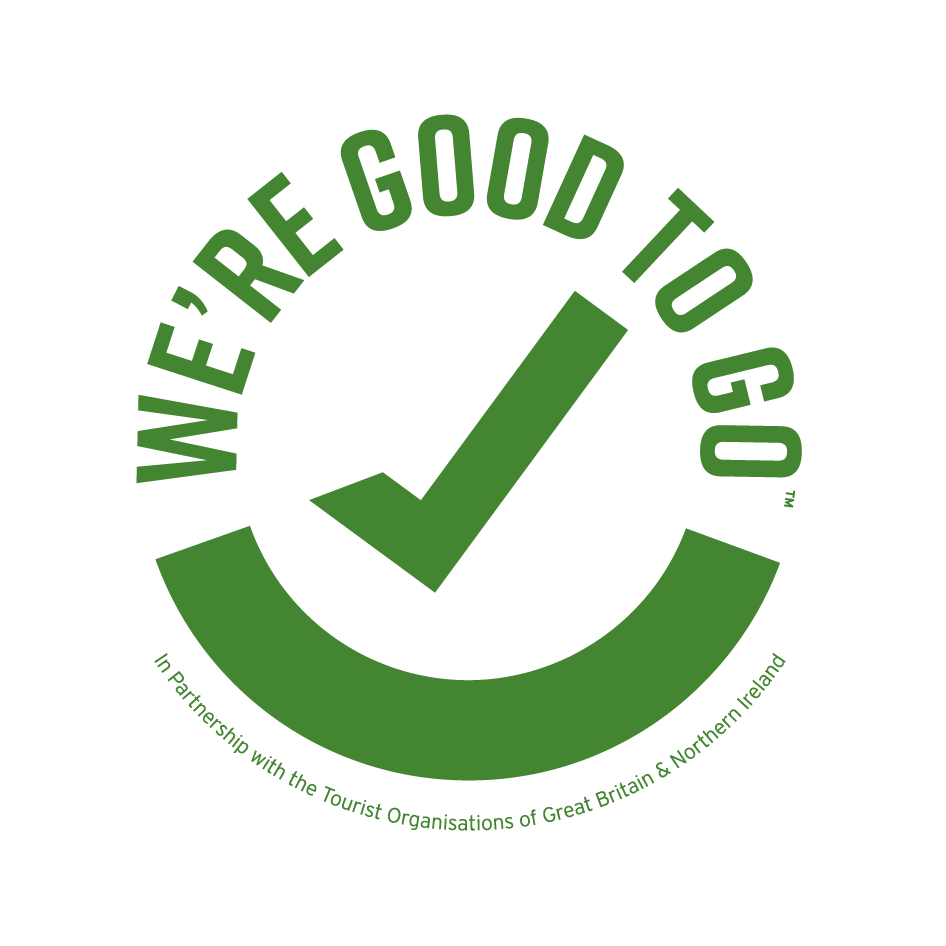 We are working hard to keep all our guests and staff as safe as possible
We are now
Open
once again and delighted to
w
elcome guests back to Shieling Holidays Mull from all over the UK.
Our communal areas and shared facilities, including
toilets and showers are also open
, with all Covid protocols and relevant social distancing requirements in place, to keep you safe throughout your stay with us.
We would like to assure our guests that we are committed to doing all that we can to give you confidence when booking to visit us.
Deep cleaning and decontamination processes will be rigorously followed and our staff have completed specific training on Covid-19 cleaning protocols.
Our Commitment to Cleanliness
Our specific Covid19 cleaning procedures will ensure our self-catering cottages and ensuite shieling tents, alongside our shared facilities on the campsite are first of all thoroughly cleaned using detergent based cleaning products, followed by misting of hard surfaces such as door handles, light switches, appliances and all kitchen and bathroom surfaces with Virucidal or 70% alcohol spray with a minimum 5 minute air dry time, as well as misting or steam cleaning of soft furnishings, curtains, tent inners and carpets to ensure maximum virus elimination.
Our disinfectant Virucidal products work on enveloped viruses and are certified as EN 14476 which offers a kill log rate of 5, killing up to 99.999% of bacteria and viruses.
Similarly, our Kaercher SC5 steam-cleaners use high temperatures to neutralise up to 99.999% of the coronavirus SARS-CoV-2 virus.
Our Route to Reducing the Risks of Key Touch Points
Limited Check-In: Our reception will only open for a minimum of 20 minutes at a time after each Oban to Craignure ferry arrives from 12 noon onward throughout the day, so someone should be at reception when you reach us. Times are available on our website, as well as on the door of reception; along with a contact number should you require assistance when reception is closed.

We thank you to follow strict 2m Social Distancing on site and be respectful and considerate of other staff and guests at all times

There are signs and floor markings as a reminder to keep two metres from other guests

Our pitches have six-metre spacing ensuring Social Distancing for all. Campers may also pitch their own toilet tent on their allocated pitch – Please use your own facilities as much as possible

Our Toilet and Shower blocks will be thoroughly deep cleaned twice a day, following our rigorous double clean & sanitise protocols, firstly using detergent based cleaning products, followed by misting of all surfaces with Virucidal or 70% alcohol spray with a minimum 5 minute air dry time. They will be checked regularly throughout the day between deep cleans

Tourist information leaflets and maps have all been removed from our self-catering cottages and ensuite shieling tents for your safety

All Shieling Tent cooking and eating kits will be thoroughly washed in hot soapy water, or sterilised with Milton for 30 minutes, or run through a dishwasher cycle and returned to your accommodation whenever possible. However, we recommend you wash items with hot soapy water yourself before use

All Shieling Tent guests are required to bring their own bedding as an additional safety precaution in our protocols against any risk from the SARS-Cov-2 coronavirus; this would include also bringing your own pillows. We do Not provide guest towels, so do remember to pack some

Please follow hand washing guidance regularly. We supply 70% alcohol hand gel for guest use in various areas around the campsite, as well as in our self-catering accommodations. Although we provide this on sites, we ask guests to also bring with them their own supplies of soap and hand sanitiser

We would request that camping guests use their own facilities as much as possible this year to reduce queuing times and pressure on the onsite communal facilities. If there is a Queue, please come back later when it may be quieter. Facilities will be closed regularly for cleaning, we apologise for any inconvenience caused.
Whilst on the Island, please remember to respect the social distancing measures at all times, wear masks and gloves whenever indoors such as shops, restaurants, or on board the ferry. Carry and use hand sanitiser and wash your hand regularly. Please also carry tissues for cough and sneeze etiquette, as others around you won't know that you may have breathed in a midge, or suffer from hay fever, so help them to not think the worst by using tissues and disposing of carefully
Please be aware that many hospitality providers and visitor experiences will sadly not be operating this year, so please come prepared to be as self-sufficient as possible and enjoy our great outdoors and all the flora and fauna this beautiful island has to offer.

Please leave your Pitch, Shieling Tent or Cottage as clean and tidy as possible on your day of departure. It would be a great help to us if you would kindly dispose of all your rubbish and any leftover food in sealed bin-bags, out in the external bins and ensure that you haven't left any belongings behind. Please leave Shieling Tent doors rolled up fully open, or Cottage windows open, to ventilate the property ahead of us coming in to clean and sanitise for the next guests
Perhaps Most Importantly - Do not travel if you have COVID-19 symptoms or have been told to isolate. If you develop symptoms whilst away from home, Dial 111 immediately and follow all guidance given. If you have to extend your stay to enable isolation before it is safe for you to return home, you will be liable for all additional costs incurred Plus 4 days to fallow property and allow decontamination on your departure. Enjoy your stay and stay safe and well,


***As required by Scottish Covid19 Law;

Please Note: As required by Scottish Covid19 Law, we have Covid19 Protocols in place, including the Mandatory requirement for use of Face Masks & Social Distancing to keep you safe throughout your stay;

All internal facilities have a maximum capacity - please read signs and adhere to limits.

Facemasks are Mandatory within all of our internal facilities - please Do Not Enter without wearing one and please do not take offence when asked by staff to put your mask on.

Toilet blocks are a maximum of 2 persons - please shout 'Hello' on entering, and if more than one voice comes back at you, please step outside until someone has exited.

Please wash your hands regularly throughout your stay and use hand sanitiser on entry and exit of All our facilities.

Genuine exemption to any of the above, Must be made known, with relevant disclosure, to staff on arrival.
Please do not take any offence if questioned by staff throughout your stay, as we have hundreds of guests safety to consider on a daily basis.

Thank you.

The Shieling Holidays Mull Team
Isle of Mull


Useful information